Heating Repair, Air Conditioning Repair, HVAC Maintenance, AC Repair & Furnace Installation

East Dundee, IL, Lake in the Hills, IL, Algonquin, IL, Hoffman Estates, IL & West Dundee, IL

Providing superior solutions to residential and light commercial temperature control in East Dundee, IL and surrounding areas, Ambrose Heating & Air Conditioning simplifies the challenges of local weather.  Contact us at (847) 496-3352 for expert installation, seasonal maintenance, and repair, and let our highly trained professionals optimize the performance of all makes and models of heating and cooling equipment.  Through meticulous and proven service procedures, we ensure peak energy efficiency, more evenly distributed comfort, lower sound levels, greater reliability, and sustainable operation.
Reliable Heating & Cooling Services
Family owned and operated, Ambrose Heating & Air Conditioning prioritizes the value of your energy dollar.  Specializing in Carrier brand products, we offer a complete range of industry-leading, ENERGY STAR rated residential and commercial HVAC systems, catering to your specific requirements and taking advantage of the innovations that trim costs, enhance comfort, and add convenience to everyday life.
Air Conditioner Service in Algonquin, IL | HVAC Maintenance Lake in the Hills, IL | A/C Service Hoffman Estates, IL
Call our team for all your HVAC repairs, maintenance & installations!
Our fully licensed and insured technicians are prepared for any job, completing all work without unnecessary delays, disruption, or damage to your property.  Upholding an A+ rating from the Better Business Bureau, We Guarantee Quality Workmanship throughout East Dundee, West Dundee, Lake in the Hills, Algonquin & Hoffman Estates, IL.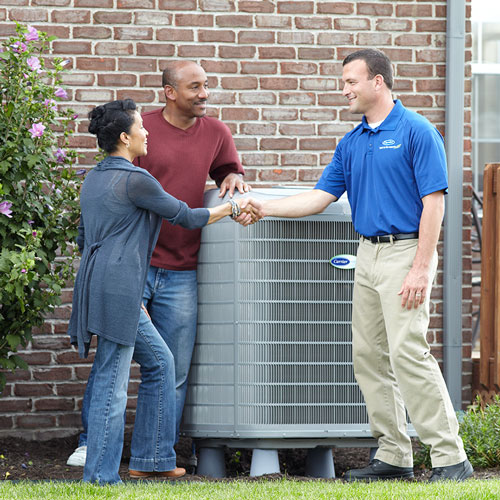 Air Conditioning & Heating Services in East Dundee, West Dundee, Lake in the Hills, Algonquin & Hoffman Estates, IL
AC Repair

∴

Heating Installation

∴

Air Conditioning Repair

∴

Heating Repair

∴

Air Conditioner Service ∴ Lake in the Hills, IL ∴ East Dundee, IL ∴ Hoffman Estates, IL

Ambrose Heating & Air Conditioning

November 6, 2017

2023/11/27