Air Conditioning Replacement, Air Conditioner Installation & Air Conditioning Installation

West Dundee, IL, East Dundee, IL, Lake in the Hills, IL, Hoffman Estates, IL & Algonquin, IL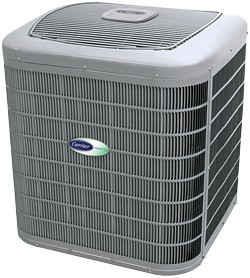 Let Ambrose Heating & Air Conditioning help you make the most of the summer season in East Dundee, IL and surrounding areas.  Take advantage of a modern, energy efficient cooling system, expertly installed.  We make sure you benefit from industry-leading products, customized to suit your specific demands.
Reliable Air Conditioning Installation Services
Bringing more than a tape measure to the job, the fully licensed and insured professionals from Ambrose Heating & Air Conditioning cater to your budget and expectations, and deliver greater rewards than a plentiful supply of cool air.  We put you in control of your indoor environment, improving air quality, enhancing whole-home comfort, minimizing running costs, and combatting excess humidity.
Give Ambrose Heating & Air Conditioning a call for all your A/C installation needs!
Family owned and operated, Ambrose Heating & Air Conditioning partners with Carrier band products in order to bring you a wide range of trusted, proven, and superior options.  From central air conditioning to ductless air conditioners and heat pumps, we handle any size space, simplify system management, optimize energy efficiency, and ensure your satisfaction.  Contact us at (847) 496-3352, and we'll answer with dedicated service, quick turnaround, and an organized start-to-finish process.  We are the right choice for air conditioner installation and upgrades across East Dundee, West Dundee, Lake in the Hills, Algonquin & Hoffman Estates, IL.  We Guarantee Quality Workmanship.
Air Conditioner Installation

∴

Air Conditioner Replacement

∴

A/C Installation

∴

Air Conditioning Replacement

∴

Air Conditioning Installation ∴ East Dundee, IL ∴ Hoffman Estates, IL ∴ Lake in the Hills, IL

Ambrose Heating & Air Conditioning

November 14, 2017

2023/06/07